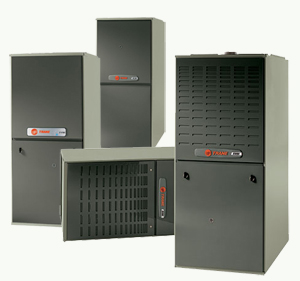 Trane is a well known brand that is known for its high performing equipment and higher efficiency products. Getting a Trane furnace can provide maximum heating performance with minimal energy use, with various prices found depending on the dealer and the type that is purchased. Trane offers gas and oil furnaces, depending on your needs and the existing unit within your home, or your choice for efficiency purposes. The Trane furnaces offered are built to last year after year, standing the test of time well above many of its competitors. There are more energy efficient options offered with the trend turning towards energy efficient home ownership, with furnaces that are shown to provide over 95% efficiency, giving you a great reason to choose a Trane furnace.

Types of Furnaces Offered
When it comes to getting a Trane furnace, you are really provided with a great number of choices. You can choose from gas or oil, depending on your own preferences or needs, with many great models of both types. There are many featured Trane furnaces such as the XC Communicating which has been seen to provide maximum comfort and efficiency, as well as the XT Single-Stage that offers total warmth and comfort for a smaller price. There are many different types, as well as specific models, ensuring that you are able to choose from the highest efficiency product within your budget, while also getting the best performance provided by a single furnace. Such models include:
XC Communicating: XC95m and XC80
XV Two-Stage: XV95, XV90i, and XV80i
XB Single-Stage: XB90 and XB80
Oil Furnace: XV80 oil and XP80
Features of Trane Furnaces
There are different features provided with each type and model of Trane furnace offered. If you choose the XC Communicating, there are features such as the ComfortLink II Communicating capability that allows automatic charging of the system, with configuration and calibration for optimal performance. There is also comfortable and even heating provided through the variable speed fan motor that adjusts the speed to provide constant flow. The other types and models also offer similar features, with less depending on costs, and different use or function. You can add the Trane CleanEffects offered solely by Trane furnaces in order to provide advanced air filtering for your home.
Price Range for Trane Furnaces
The price for a Trane furnace is going to be greatly influenced by the use and the type of the model chosen, as well as the size of the unit to be placed within the home. The various models offered provide maximal performance for most standard homes, allowing premium heating throughout the entire winter. Made to last throughout the years, the price of a Trane furnace is well worth it as the use will last for quite a while. From $1,000 to as much as $2,500 or more, you can get a highly functional and optimized Trane furnace from many different dealers and sources online.
Heating your home with a Trane furnace is going to provide high quality efficiency and function with a price that is well worth the value of the furnace. The years of use you are able to achieve through your Trane furnace will repay you greatly, with many government and local incentives for purchasing the Energy Star approved furnace models.