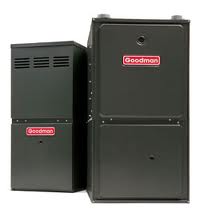 If you are thinking of replacing your current furnace or having an initial installation of a furnace, and are looking in the market for a Goodman furnace, you are choosing a brand that provides great options for any type of home you are trying to heat. From a standard system optimal for standard homes to mobile home furnaces specially made for optimally heating mobile homes, there are many choices of just what model you can choose.

Types of Furnaces Offered
You can get a variety of high efficiency gas furnaces or you can choose from many varieties of the standard efficiency gas furnaces if you are interested in a new Goodman furnace. The high efficiency units offer greater energy efficiency, with less environmental output, offering from 92.1% AFUE to 95% AFUE. These units are available in a variety of models including:
There are many other units offering down flow and multi-position, as well as variable speed heating output for optimal performance and use. The standard units are best for homes, in which they will be placed within the home in some area, including the basement and attic, or the exterior or interior of the home. These units are not going to save as much in terms of efficiency, but are made with various efficient components to offer savings from the older units. The standard units are available in a variety of models including:
Features Offered with Goodman Furnaces
Getting a Goodman furnace is a great choice for many reasons. With the high efficiency units, there is a great deal of features that offer great savings and optimal use out of the furnace. From Dual-Diameter tubular heat exchangers used within the units to ComfortNet Communications systems and a 10 year replacement warranty, as well as a lifetime heat exchanger warranty, you are getting a high value for a lesser price. A Goodman furnace features many other great features, and can be compared to many of the top brands that are much higher in price.
Price Range for Goodman Furnaces
Depending on the type of furnace you are seeking, the size, and the exact model, the price range for a Goodman furnace will vary greatly. There are many different factors that influence the exact price, but there are units that can be found used for as low as $600, with new high efficiency models offered for less than $1,500. This can present great savings, while offering a top-of-the-line brand that is sure to out beat any competition through features and price as well.
Getting a Goodman furnace is a great choice to make if you are seeking to replace an existing unit that may not be as efficient, or to replace oil or forced air furnace systems that isn't performing optimally. Ensuring you are getting high performance, great efficiency, and a low price is always a guarantee with Goodman furnaces.