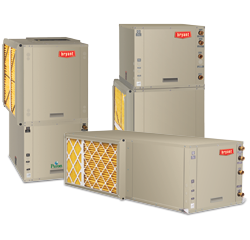 When shopping for a new furnace, you are definitely looking for three main things: price, performance, and efficiency. Without these three things, you know nothing about the furnace, and could likely end up making a great mistake. Purchasing the wrong furnace could definitely cause great costs in the long run for any homeowner, even when there is little use of the actual unit. Getting a Bryant furnace will ensure that the choice you make is a great one, which provides great benefits to you long term.

Types of Furnaces Offered
Bryant furnaces are offered in many different models of the gas variety, ensuring as much as 96.6% AFUE ratings. This is supreme for energy efficiency, ensuring that your monthly usage costs are as low as possible, without having to sacrifice the quality and performance of the unit. You can get a Bryant gas furnace in numerous models including:
Evolution Series 96
Evolution Series 80
Preferred Series Plus 95i
Legacy Line 95
No matter what size or features you are looking for in a new furnace, choosing a Bryant furnace will ensure that you are provided with maximum efficiency for a smaller budget.
Features of Bryant Furnaces
There are many high quality features of a Bryant furnace which make the price so valuable to those with a lower budget that wish to ensure the best efficiency. There are many features offered through the Bryant brand, applied to the appropriate Bryant furnace chosen such as:
Evolution Control
Remote System Monitor
Perfect Humidity
Electrically Efficient Variable Speed Fan
TrueSense Dirty Filter Detection
There are also other features offered with some of the Bryant brand furnaces including the PerfectHeat technology ensuring optimal comfort and heating, as well as various types of heat exchangers used based on the unit chosen including stainless or aluminized steel and Everlastic. Each Bryant furnace focuses on high performance with optimal heating measures and increased efficiency. From 93% to 96.6%, which is quite high in today's fight for energy efficiency, Bryant offers supreme efficiency on all newer purchased units from the Evolution Series to the Preferred and even Legacy Series models offered.
Price Range of Bryant Furnaces
Much like any other brand, Bryant offers many different prices for the furnaces offered. There are those that are more beneficial for those on a tighter budget that can only afford a smaller out of pocket cost up front. These units can range from $600 to $800, plus any installation costs that are needed to install the unit properly. There are larger and more premium units offered in the higher prices, up to a couple thousand, offering optimal efficiency and great performance, with all the key features of the Bryant Brand. The Evolution System Plus Series models and the Preferred Series Plus 95i gas furnaces offer each of Bryant's great and high technology features.
If you think that a Bryant furnace is the best choice for you, you will find that you are choosing a high performing product with high efficiency for great cost savings. With low prices on the various models and updated features, Bryant offers a supreme line of furnaces for any budget.