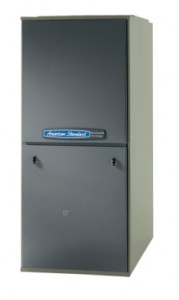 Any homeowner of today has realized that cutting corners when it comes to heating or cooling the home is just going to end up costing a great deal more in the long run. Today's market offers efficiency that ensures most of what is paid for is actually heat. Whether gas or oil heating is used, there is a model offered from American Standard to meet the needs of the home, offering anywhere from 80% to 96.7% AFUE, ensuring that at least 80% of the heating costs for the home are paying for heating and not energy costs. Cutting costs in this way may cost a bit more to begin, but will pay for itself through as much as $1,500 in tax credits and incentives, as well as the overall energy savings offered.

Types of Furnaces Offered
American Standard furnaces can be found in gas or oil consumption units, offering something for any homeowner's needs. Getting an American Standard gas furnace will offer many great savings through optimally functioning elements that were designed to promote high efficiency and long life for the unit. Even the oil furnaces offered by American Standard guarantee great savings with at least 80% efficiency, ensuring at least 80% of heating costs are heating the home directly. With quiet efficiency, great performance, and top quality, getting an American Standard furnace is a great choice with many models to choose from including:
Freedom 95 Comfort-R
Freedom 95 Single Stage
Freedom 90 Comfort-R
Freedom 80 Comfort-R
Features of American Standard Furnaces
With an American Standard homeowners can benefit from several different features that ensure quiet and efficient operation through many years. Whether gas or oil, there are many different features included with the model including:
Modulated heating
Up to 95% fuel to heat conversion
AccuLink communicating system
Comfort-R for optimal indoor humidity control
There are several other features offered, mostly based on the model that is chosen. The different functionalities of the units ensure that any homeowner, with any budget, can take advantage of the awesome heating power of an American Standard furnace.
Price Range of American Standard Furnaces
Paying for a new American Standard furnace does not have to be an issue that causes a bad choice. An American Standard furnace will literally pay for itself over the years through great cost savings, as well as with the many incentives provided through tax credits and rebates offered through the government or the local companies. You will get a warranty for your furnace to ensure longevity of the system, with price tags that can range from $800 to as much as $2,300 or more. The AFUE rating will increase the price a bit, but will also increase the savings through the use of the American Standard furnace chosen.
Purchasing an American Standard furnace will ensure a fully heated home at less of the cost. Ensuring that at least 80% of the home's heating costs actually goes towards the heat put into the home, American Standard offers a great unit for even a low budget, with great benefits throughout the years and many rebates and other incentives to increase the value of the dependable unit.
American Standard Furnaces
SKU
UPC
Model
great furnace
Apr 01, 2012
by
Greg A
Model: AUHMB080ACV3VA •
Price Payed: It was not cheap
I had an old carrier furnace in my home that was beginning to break down every month or so and it was loud enough to wake the whole neighborhood. American Standard was recommended by a friend who swears by its performance. We got the Freedom 95 series after spending nearly a week researching all the options at hand. We have been using it for over 3 months now. Here's the low down. It's quiet. It has reduced my gas bills by almost 35% as compared to last year. It heats my home perfectly well even in the middle of winter which is exceptional. I would highly recommend this to anyone looking to upgrade their furnace.

---
long lasting furnace
Feb 06, 2012
by
Bill Thompon
An American Standard Furnace was first installed in my home in the year 1964 and it has continued to work like a dream all these years. There were a few minor bumps along the way but those were temporary maintenance issues which never took more than an hour to fix. Unlike what some other people have noted, I have never faced a problem with the heating during extreme cold weather. If someone is looking for a furnace that is going to last for the next few decades without costing a fortune in maintenance and gas bills, then American Standard is the best choice.

---
Platinum SV a Good Buy
Feb 03, 2012
by
Sarah William
Model: AUD2B100ACV32A
When I decided to replace the clunky old furnace that came with the house, I knew it had to be American Standard. And since I firmly believe in 'what you get is what you pay for', I decided to opt for the Platinum Series of furnaces. After some comparisons between the Platinum ZV & the Platinum SV, I decided to opt for the later because I live in an area with slightly warmer climate and could do without the 95% efficiency that the ZV offers. The SV is 80% efficient, has a 2 stage heating system, is relatively quiet & it is cost effective. This is the perfect furnace for you if you want a low cost, efficient and reliable machine.

---
Gold ZM Furnace
Jan 26, 2012
by
Tom W
Model: AUH2B080A9V3VA •
Price Payed: $3500
I recently bought the Gold ZM Furnace from American Standard via an online dealer. The model number is AUH2B080A9V3VA. The price is slightly higher but with an amazing 96 AFUE, what else do you expect? The furnace has added an extra level of comfort to the house. It is one of the quietest ones that I have ever seen. The furnace used to cycle on and off during the first week but the company promptly replaced it with a new one. I had a heat pump prior to buying this. I will never buy a heat pump again. I am completely satisfied with this gas furnace.

---
bad purchase
Jan 26, 2012
by
Doug S
Model: Silver SI 80
I recently bought the Silver SI 80 R furnace from an online dealer and the first mistake that I did was to try and self install it. Will never try it again. Coming back to the furnace, I have had problems with the heat cutting off in the middle of the night. The service guys have tried to rectify the problem but it keeps recurring. The unit is still in warranty and I have spoken to the company guys who have been very helpful so far. Looking for an upgraded model at no additional cost as promised by the company. At least they have been able to supply good service after all the problems I have been having.

---
Click here to submit your review.
---
---