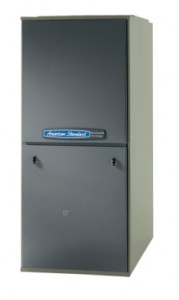 Any homeowner of today has realized that cutting corners when it comes to heating or cooling the home is just going to end up costing a great deal more in the long run. Today's market offers efficiency that ensures most of what is paid for is actually heat. Whether gas or oil heating is used, there is a model offered from American Standard to meet the needs of the home, offering anywhere from 80% to 96.7% AFUE, ensuring that at least 80% of the heating costs for the home are paying for heating and not energy costs. Cutting costs in this way may cost a bit more to begin, but will pay for itself through as much as $1,500 in tax credits and incentives, as well as the overall energy savings offered.

Types of Furnaces Offered
American Standard furnaces can be found in gas or oil consumption units, offering something for any homeowner's needs. Getting an American Standard gas furnace will offer many great savings through optimally functioning elements that were designed to promote high efficiency and long life for the unit. Even the oil furnaces offered by American Standard guarantee great savings with at least 80% efficiency, ensuring at least 80% of heating costs are heating the home directly. With quiet efficiency, great performance, and top quality, getting an American Standard furnace is a great choice with many models to choose from including:
Freedom 95 Comfort-R
Freedom 95 Single Stage
Freedom 90 Comfort-R
Freedom 80 Comfort-R
Features of American Standard Furnaces
With an American Standard homeowners can benefit from several different features that ensure quiet and efficient operation through many years. Whether gas or oil, there are many different features included with the model including:
Modulated heating
Up to 95% fuel to heat conversion
AccuLink communicating system
Comfort-R for optimal indoor humidity control
There are several other features offered, mostly based on the model that is chosen. The different functionalities of the units ensure that any homeowner, with any budget, can take advantage of the awesome heating power of an American Standard furnace.
Price Range of American Standard Furnaces
Paying for a new American Standard furnace does not have to be an issue that causes a bad choice. An American Standard furnace will literally pay for itself over the years through great cost savings, as well as with the many incentives provided through tax credits and rebates offered through the government or the local companies. You will get a warranty for your furnace to ensure longevity of the system, with price tags that can range from $800 to as much as $2,300 or more. The AFUE rating will increase the price a bit, but will also increase the savings through the use of the American Standard furnace chosen.
Purchasing an American Standard furnace will ensure a fully heated home at less of the cost. Ensuring that at least 80% of the home's heating costs actually goes towards the heat put into the home, American Standard offers a great unit for even a low budget, with great benefits throughout the years and many rebates and other incentives to increase the value of the dependable unit.